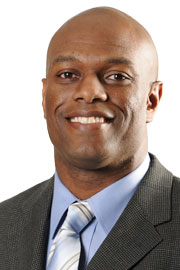 VICE PRESIDENT OF FOOTBALL OPERATIONS AND GENERAL MANAGER
Hervey enters his 18th season with the Eskimos and his fourth as General Manager after his hire on Dec. 10, 2012. He was extended on Feb. 23, 2015 with the added title of Vice President of Football Operations.
Last season, the Edmonton Eskimos went 14-4 en route to winning the 103rd Grey Cup championship against the Ottawa RedBlacks in Winnipeg. The win marked Hervey's third championship title. The former CFL All-Star earned his first two as a player in 2003 and 2005.
Hervey continues to build a competitive roster with an emphasis on depth, character, toughness, athleticism and winning.
Also under his leadership, the scouting department expanded to ensure widespread coverage in all regions of the United States and Canada, increasing the club's ability to identify and recruit top level talent.
Hervey established the Annual Amateur Football Summit, now in its fourth year, with the goal of Long-Term Athlete Development. The event brings together stakeholders from Northern Alberta to review rules and regulations, player skill development, coaching development, officiating and the continued advancement of football at all levels.
He was the team's West Coast Scout from 2007 to 2008 and Head Scout from 2009 to 2012.
Before joining the front office, he played eight seasons (1999-2006) as an Eskimos wide receiver. The former University of Southern California football and track star stood out for his world-class speed, toughness and leadership – on and off the field. In 118 CFL games, he caught 476 passes for 6,715 yards and 43 touchdowns. He played in eight post-season games and three Grey Cup games, winning in 2003 and 2005. In 2006, Hervey received the David Boone Memorial Award in recognition of his outstanding contributions to the community.